UNICONTROL GNSS ROVER
As a trusted Unicontrol dealer, we offer the Unicontrol GNSS Rover with a built-in tilt function - on of the best in the business. This innovative device combines a high-performance GNSS receiver with a user-friendly tablet interface, ensuring a seamless user experience. With real-time data sharing capabilities, you can collaborate efficiently with other Unicontrol units, promoting effective coordination on your projects.
INSTANT SYNC BETWEEN GNSS ROVER AND MACHINE
With the Unicontrol Rover, your measurement and stakeout tasks have never been simpler. Working files are effortlessly synchronized and instantly shared through our Unicontrol Cloud solution, connecting seamlessly with your office, operating machines, and workstations. Whether you choose to work independently or collaborate directly with other Unicontrol systems, the Unicontrol Rover offers a perfect synergy, ultimately saving time and enhancing collaboration in your projects.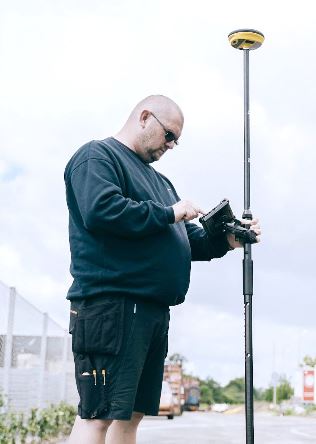 A ROVER MADE FOR EVERYONE
The Unicontrol Rover, equipped with a familiar and user-friendly Android system and a portable wireless screen, streamlines your surveying process. The tablet's intuitive interface grants easy access to menus and data, ensuring a comprehensive view of the construction site and stake-out points in a 3D perspective. Additionally, the integrated tilt-to-go function, offering an incline of up to 60°, empowers you to enhance productivity and maintain precision without interruptions
A RELIABLE AND ACCURATE SURVEYING PARTNER
Unicontrol's high-precision GNSS receiver boasts multi-constellation and frequency tracking capabilities, accommodating up to 800 satellite channels. It comes equipped with all standard signals, including GPS, BDS, GLONASS, GALILEO, QZSS, and SBAS. Stake out points and lines with millimeter-level precision, ensuring reliable and accurate surveying outcomes accessible to all.